The SSA Raffle is put on annually by the SSA to help raise funds for its clubs and safety promotion. Each ticket costs only $5 and gives you the chance to win a cheque for $15,000!
Support our clubs and help promote safe, responsible snowmobiling in Saskatchewan.

Contact the club to get your tickets! Tickets can be purchased from our snowmobile clubs. You can find a club in your area by using the Club Directory.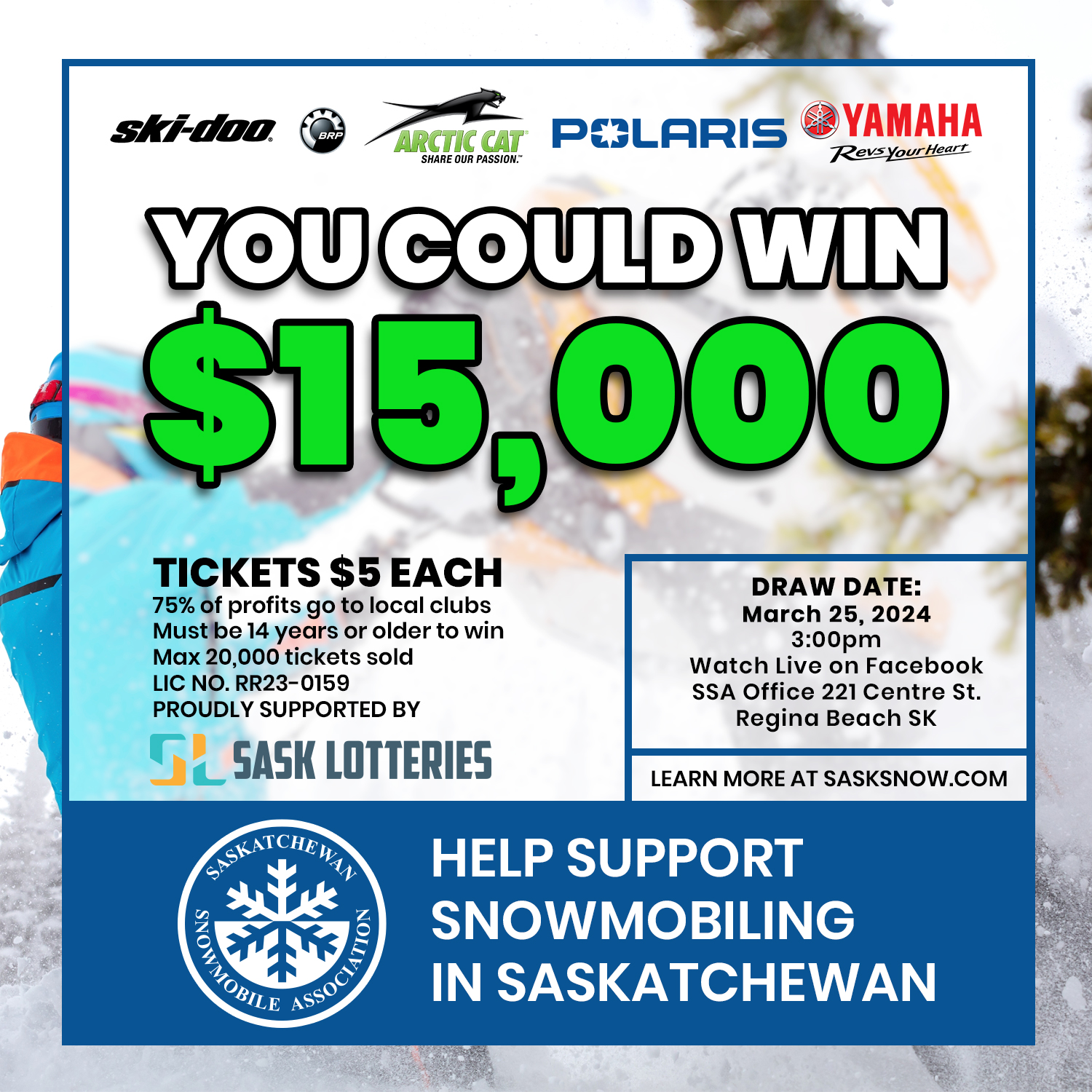 Max 20,000 tickets sold
LIC NO. RR23-0159
Over 75% of all raffle proceeds go directly to our clubs to help offset the cost of maintaining our provincial trail system. Did you know that even with the $110 registration most clubs still don't cover their expenses. The remainder of these funds come from various fundraising efforts like this one. Learn more about your snowmobile registration HERE. The rest of the raffle proceeds are used by the SSA for a multitude of different programs ranging from safety to promotion. 
 Money from our online sales is divided up equally among all clubs, but when a club sells tickets, their portion is slightly higher. Maximize the proceeds to your local club by buying your tickets directly from them.
You can still purchase tickets via the mail-in form found HERE. First download the PDF form, fill it out, and then mail it in to our office along with your payment. Should you have any questions just give us a call.
It's never been easier to support the SSA! New this year we've added an online purchase option. Tickets are sold in full books (20 tickets) only, and not able to be purchased individually at this time.
CONGRATS TO John Moore FOR WINNING THE 22-23 SLED RAFFLE! 
TICKET NUMBER 01820 SOLD BY THE Goodsoil Ridge Riders.